Raising the Bar For Public Works
At WBE, we specialize in public works that bring together our industry-leading expertise in lighting, traffic signal systems, fiber optic installation and construction. In particular, we meet the unique challenges of security, sustainability and quality standards for every public project by leveraging our 45+ years of multidisciplinary experience.
Our seasoned Traffic team is especially in high-demand for traffic signals, roadway installations and public transit security systems, as well as sustainable opportunities such as solar panels and EV chargers. For example, we've designed full-scale electrical solutions and installed them at countless local intersections, parking lots and SMART platforms, including East Grand Avenue, Bon Air Bridge, Kaiser Oakland Intercept and more.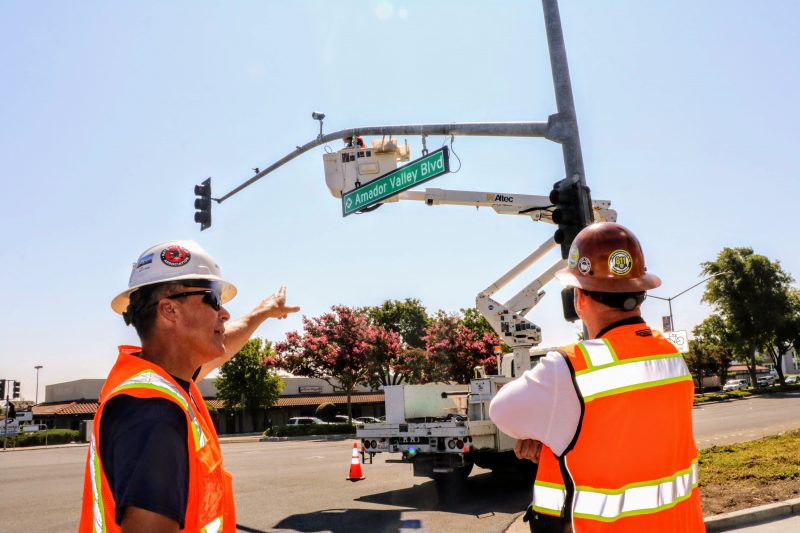 Traffic signal systems

Fiber optic cable systems (including all cable testing, splicing and installation)

Related construction needs (such as street trenching, roadway paving, asphalt removal, median construction, conduit systems, etc.)

Video surveillance and detection systems
LED fixtures (such as high mast lighting poles and street name signs)

Decorative street, pathway and landscape lighting

Solar power lighting & Crosswalk System infrastructure

EV charging stations

Sports Field Lighting & PA Systems
Public Signage
Let WBE Be Your One Source Solution