5G/DISTRIBUTED ANTENNA SYSTEM ANTENNA SYSTEM (DAS) INSTALLATION
Helping you stay connected
When implemented by an experienced telecommunications contractor like WBE, remote radio units can provide you with reliable connections even in the most demanding environments.
5G/DAS Contractor: We're with you every step of the way
Distributed Antenna Systems (DAS) will be key to satisfying the demand for faster data and reliable connection. From both public users and public safety agencies, the demand for in-building DAS has never been greater.
Today, industry research suggests that more than 50 percent of mobile phone calls originate and/or terminate indoors. Therefore, it is no surprise that in-building coverage solutions for cellular/PCS (Personal Communications Services) are equally desired.
WBE is here to help every step of the way to get your DAS up and running.
Public Safety
We are experiencing an increased demand for distributed antenna system design and installation in buildings and campuses throughout California for Public Safety.
First-responders (police, fire, and EMS) are demanding reliable ubiquitous radio coverage to ensure the safety of the public, as well as their own. "Mission-critical" coverage can no longer end at the doorway, basement, stairwell, or tunnel; therefore, many cities, municipalities, and counties are rapidly adopting in-building coverage ordinances to meet the new ICC IFC 2009 and NFPA 72 2010 requirements.
Let WBE's 20 plus years of DAS and BDA (Bi-directional Amplifier) experience help you navigate through the guesswork.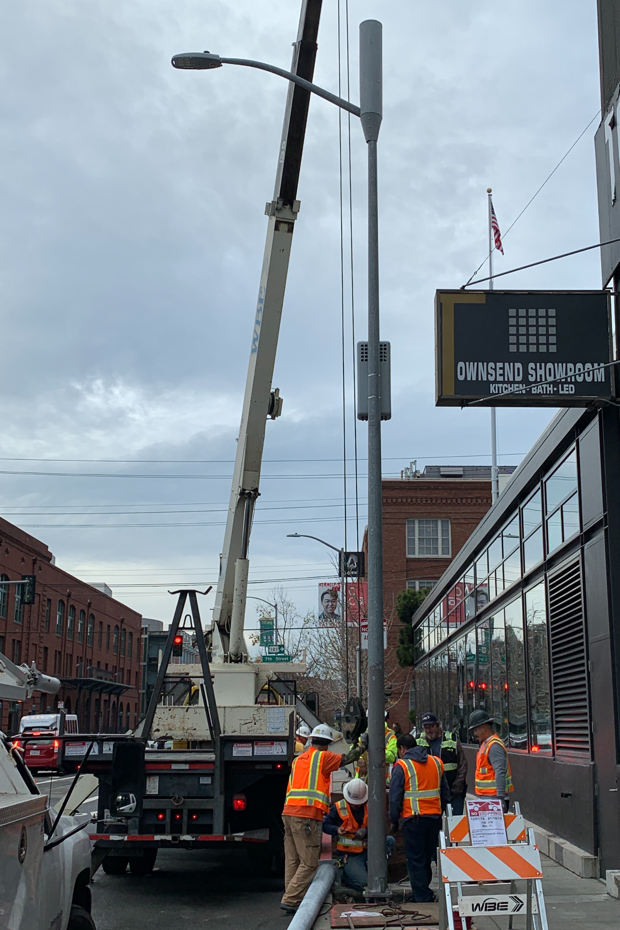 Everything You Need In One
5G/Small Cell
Network Densification plays a critical role as Carriers push to deploy 5G and drive demand for small cell installation on streetlight and utility poles.
With WBE's streetlight division, we'll leverage our 18 years of experience and relationship working with cities throughout Northern California like San Francisco, Oakland, San Jose and Sacramento to help expedite your deployment needs.
5G Carriers
We can assist you in working with the countless carriers in the marketplace today. By negotiating services and connectivity options, we can provide the most cost effective and optimal services possible.
5G/DAS Installation
Installation made easy. We will handle everything from coax to single-mode fiber riser cable to the installation of both internal and external antenna and active components. You'll experience little disruption to your employees and tenants as we install a state-of-the-art cellular wireless network within your existing facility.
Remote Radio Units
We can assist you in the design and layout of your wireless network. Let our own network technicians create a heat map survey of your space that will show the ideal placement of devices, avoiding dead zones and weak coverage.
Security of your wireless network is as important as the coverage itself. WBE will make the appropriate recommendations to design a robust, secure, and convenient network for your employees to use.
As a telecommunications contractor that is well versed in design/build methodology, WBE Telcom's team uses a collaborative approach to move projects from conception through completion.
At WBE, we play well with others. Add us to your project team, and we'll help you move your project along efficiently. You'll experience fewer delays, on-time delivery, and improved cost control.
You'll see how easy it is to work with a company that has four BICSI Registered Communication Distribution Designers (RCDD) on staff and the resources at hand to pull all disciplines—electrical, telecommunications, network, security, and audio visual—together under one umbrella.
In the end, our approach will provide you with a seamless design that encompasses all facets necessary for your cabling/network infrastructure.
WBE employees are trained to follow customer-specific guidelines for working in each of their data center environments. This includes training in critical awareness and change control to ensure that the personnel working within the data center are of a high caliber and trusted to follow procedures to the letter.