WBE Process System Controls Installation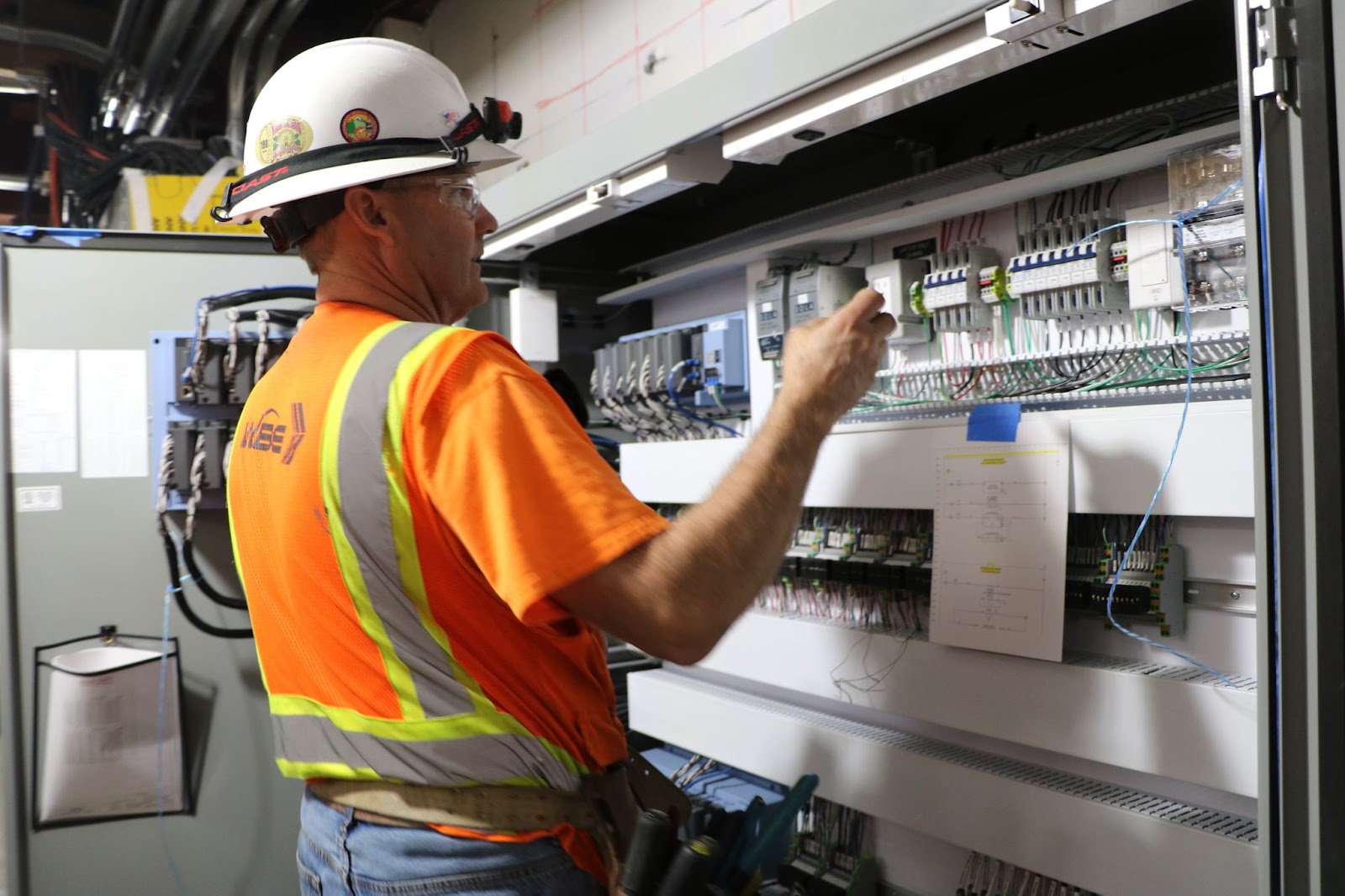 Newcomers to the San Francisco Bay Area might be astounded to learn that there are over 200 biotechnology companies in the region – the largest cluster anywhere on Earth.
These vast facilities, full of delicate machinery and intricate processes, create life-saving medications that offer hope to millions around the world. So, it's no wonder that the biotech construction industry is flourishing in the Bay Area and beyond. We sat down with Jose Morales WBE's Automation Project Manager to discuss how WBE's electrical division is augmenting its support to local system integrators and customers.
From Fabrication to Automation Project Manager
Jose has been working as a contractor in the biotech industry for over 30 years. His first job, way back in 1991, was in the fabrication shop of a local system integrator, building control panels. Back then, he says, the contractor support of the Biotech industry was just coming of age – everyone was learning on the job. 
"When I started in this industry, it was young and these biotech companies were obviously growing too, so they didn't know who to call to provide these services."
Construction of a building, adding in all the offices and fabrication space has been standard practices for years. Designing the process systems, installing equipment, software and so on is trickier. Jose explains that as the projects  became more and more complex, the installation and testing   became a very specific, specialized skill. 
"First you design the control system,  built the control panels. Then we were asked to go onsite install the full system. We were not electricians, so we needed to find an electrical company that we could hire to run the conduit and pull the wire to control panels and the rest of the equipment.  WE would then make the final connections and support the end customer with formal testing.
I would reach out to  to WBE for  support on onsite installation phase and one of the main contacts  was Joel (Backman, WBE Senior Project Manager) , we worked together for a few years  on many small and large projects.
Jose enjoyed working with WBE  so he's delighted to now be part of the team and taking it to the next level for their Biotech clients
What is biotech?
Biotechnology uses biology + technology to create useful products such as disease-resistant crops, bio fuels, bacteria that gobble up oil spills and, of course, life-changing medications and vaccines.
Ordinary medicines, like painkillers or those blood pressure pills some of us take every day, are chemical compounds that you take as tablets, pills or capsules. You swallow them with water and let your digestion take care of getting the chemicals where they need to go.  
Biotech medications are vastly different. They are protein-based and their molecules are identical (or at least very similar) to the proteins in our own bodies. Some work by targeting excess enzymes, cell-receptors and other molecules brought on by disease. They bind to the target and stop it communicating with other molecules in your body. Other medications work by replacing a vital natural protein that's missing or deficient, creating the conditions to regain your health by replacing the missing molecule.  
Producing these sorts of medications is challenging because it demands perfection. There's no room for error, so each part of the process is monitored and controlled every step of the way.  
Manufacturing biotech demands complex environments
Creating a biotech medication starts with culturing cells in petri dishes in the lab. Once they start to increase, the cells are transferred into bioreactors. Typically, they'll start off in smaller tanks and are then moved into larger bioreactors as they grow. In some facilities the bioreactor tanks may be 20 feet high and hold 20,000 liters of cells plus the liquid they're growing in.
Once the cells are done growing, more technology takes over. The proteins must be extracted,  filtered, purified and more. These protein-based medications are too delicate to be battered by your digestive system. So once the proteins are ready they're put into a sterile solution which can be injected or infused.
Each process requires a set of different machinery and conditions and most of them run automatically, 24/7. 
And, since almost every machine in the system needs electricity to run, doesn't it follow that your electrical contractor can support the installation of those process control systems.
That's why WBE is thinking outside the box with its new Process Controls group. 
"That an electrical company can provide you installation support around your control system is a new approach — but it makes complete sense." 
Jose Morales
What is process control?
Phil Black, editor at Process Industry Informer defines process control like this:
"Process control is used in continuous production – in manufacturing and in other fields and industries where some kind of material is produced without any kind of interruption. It's used to automatically control the conditions in which a product is made – ensuring better quality and efficiency.
(It) uses specialised, often custom-built industrial control systems (which) control the flow, output, mixture, and other such aspects of a continuous production process, based on feedback from sensors, data monitoring systems and more."
In Biotech manufacturing it means that delicate machinery grows, makes, ferments, filters, combines, separates and extracts biotech medications. At the same time, specialized sensors keep an eagle eye on the nutrient levels, temperature, air pressure and a whole lot more to ensure that everything goes according to plan. 
Who uses process control?
You'll find these systems in many different industries besides biopharmaceutical manufacturing. For example,
Dairy 

Food

Oil 

Gas

Pulp and paper

Petrochemical

Automotive

Mining

Power generating plants and

Waste water plants
All have automated the systems that deliver what they do. Process control is what controls the systems, keeping them going and monitoring each input and output. It includes software, instrumentation for measuring and controlling inputs and outputs, dials, meters, digital readouts, sensors,  monitoring systems and a whole lot more. Then there's the Quality Assurance programs and software. The analytics and the data control. The bottling and packaging. Each bit requires extreme precision because the smallest error could jeopardize the entire batch of medication.
"Most pharmaceutical companies make use of advanced process control systems – allowing for granular control of the manufacturing process, minimizing product waste, and guaranteeing the safety of all medications manufactured at the plant."
WBE offers process control systems installation
When building a new facility the customer hires an engineering company to develop the process system. Together with the lead construction company they form a project team which then reaches out to other companies like a system integrator. The S.I. then develops the control system and gathers the components needed to make it work.
WBE has already been part of the construction process from the beginning, running the conduits and wiring to every part of the building. But, instead of bringing in a separate contractor, WBE now electricians have the skills to help install and connect and test the expensive equipment, too. Owners don't need to bring in yet another team, WBE is already onsite and trained to do the job.
"WBE Controls Group now offers this service to system integrators so they can have labor on site to help them complete the installation. It adds to the support that WBE already gives these projects."
Morales adds that as a system integrator he always wondered why electrical companies didn't upskill so they could provide the labor and manpower needed for system integration. So, he's delighted to be a WBE Project Manager who can add such a valuable contribution to new biotech builds.
The WBE difference
When Morales worked on the "other side of the fence" he says that:
 "WBE always made me feel like they were part of helping me execute my scope for my company. They wanted to help everybody get the job done. They'll work with you and be there for you."
Regardless of contractor scope, everyone is there to make that project successful. 
"So the difference between WBE and any other electrical company that I've worked with is their willingness to learn, teach, support and grow with you and help you succeed."
What makes system installation so complex?
There are many factors that contribute to complexity in system controls and installation. Designers and installers have to factor the type and design of each piece of equipment, and the size of the building and the specific area it's going into. 
"Sometimes," says Morales,  "it's a very small, simple system. Sometimes you're dealing with big tanks and bigger piping (and) a lot of instrumentation. There are so many valves and instruments, we could talk for days just on that alone."
Of course, we're not just talking about one system for the whole manufacturing plant. There are multiple automated and monitored systems for many different processes for each medication.To add to the complexity, many biotech companies create multiple medications in one facility. To make that happen the manufacturing capability needs to increase. What may, in the past, have been a six-foot-high tank is now a 20-foot tank. The pipe that was once a one-inch diameter now measures four inches across. Everything is connected, tested, and monitored to strict FDA standards before any medication can be released for manufacturing. Then there's the intricate software component, too. For that WBE brings an expert in, under their umbrella, to do the programming. 
Working towards your turnkey project
It's amazing to think how fast a biotech build can proceed. When everything goes according to plan a vacant lot can become a beautiful, functional building in just six months. During the construction phase WBE teams are always onsite putting in the conduit etc. to laboratories, clean rooms, factory floor, offices and more. Every part of the building requires electricity to function. 
Then, when the building is around 90% complete, the equipment comes onsite and needs to be installed, connected and turned on. WBE teams are there every step of the way, from construction to installation. Even after the facility is up and running, WBE provides maintenance and support for the add-on projects that almost inevitably come along later.
Conclusion
WBE Controls Group offers a turnkey solution for system integrators, with services that include construction, equipment installation, programming, and maintenance. We pride ourselves on being willing to learn and grow with our clients, making us a valuable partner in complex system integration projects. With WBE's support, system integrators can feel confident that their Biotech build will be completed on time and within budget.