Keep People and Facilities Safe with Thermal Screening Technology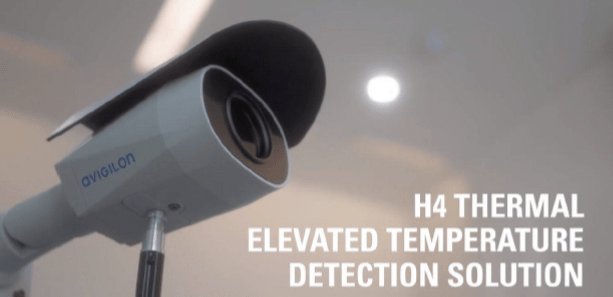 As COVID-19 restrictions lift and facilities reopen, public and health safety guidelines need to be followed in order to keep employees, customers and visitors safe. Businesses need to be agile and quickly identify individuals who may be exhibiting symptoms of COVID-19 to ensure a safe environment.
A Contactless Temperature Pre-Screening Solution
Thermal technology allows you to proactively detect an individual's skin temperature and is a non-invasive method that allows people to safely enter a facility while being quick and efficient. It provides a contactless, low friction and high-throughput alternative to traditional physical screening methods.
How It Works
The Avigilon H4 Thermal Elevated Temperature Detection (ETD) camera is embedded with edge-based analytics to detect faces, then measures the temperature of the inner canthus region (i.e., tear duct), and notifies operators of an elevated skin temperature. An alert is sent when the individual's skin temperature reads higher than a predetermined threshold. The individual can then be sidelined for secondary screening with a medical-grade device, such as a thermometer.
Seamless End-to-End Workflow
Elevated temperature events can be monitored, assigned and acknowledged in Avigilon Control Center, providing a seamless end-to-end workflow. Powerful search tools enable you to quickly search through recorded video for elevated temperature events, so you can take action with an informed response.
Schedule a Demo! Contact Joe Murphy, jmurphy@wbeinc.com