Tesla vs. ChargePoint vs. EVgo: An Honest List of Pros & Cons for Commercial Installation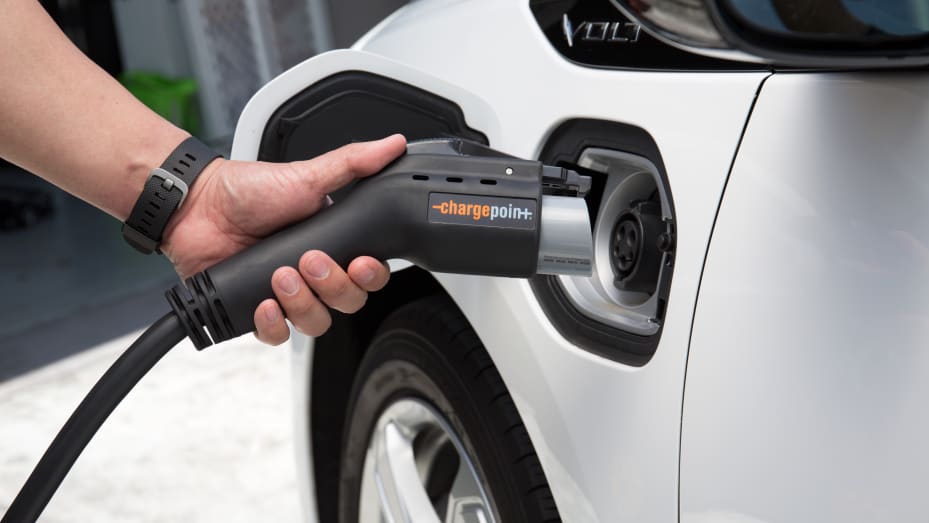 Going green is simply good business. If you're a business or property owner looking to reduce your carbon footprint, you may be interested in
installing an electric vehicle (EV) charging station of your own
. But how do you get started? 
EV charging stations can be highly beneficial for your business, whether you're a retailer, office, garage or other location. While there are a number of EV charging stations to choose from, it's important to get the right one for your situation. 
To help you decide, we'll go over three of the most popular EV charging stations. As experts in EV charger installation, our goal is to provide an honest list of pros and cons, so you can make an informed choice for the benefit of your business.
EVs and Charging Stations Are the Future
The past few years have seen a seismic shift in the demand for EVs. Experts predict that the size of the global EV market will reach 115 million vehicles by 2030. Though we still have a ways to go, Americans are warming up to the idea of EVs and the numerous environmental and financial benefits they provide. 
Car brands are moving quickly to meet the growing demand of EVs. In fact, practically every major car brand has pledged an all-electric future – some as early as 2025. This doesn't just involve personal EVs, but also commercial ones. Delivery companies such as Amazon, FedEx, UPS and DHL have placed major orders to add EVs to their fleets. 
Finally, as EVs become the norm, road infrastructure will have to keep up. Recently, the Biden administration proposed $15 billion to install 500,000 EV charging stations along roads, parking lots and apartment buildings, as part of its infrastructure plan. 
It's clear: EVs are the future of travel, which means having an EV charging station at your business is a big advantage.
Choosing the Right Charging Station for Your Business
As a business or property owner, you may be considering installing an EV charging station to meet your customers' travel needs. But since EVs are relatively new, it can be tricky to understand the best option for your business. 
To give you an idea, there are three major players in the EV charging station market today: Tesla, ChargePoint and EVgo. Each of these EV chargers has different advantages and disadvantages, which we'll evaluate below. 
While all three are professional EV brands, you may prefer one over the others depending on your customers' preferences and your best predictions for future use.
Note: If you're not familiar with EV charging levels, you might want to read up about them in our guide before checking out the different EV charging brands below
Tesla Charging Station Installation Pros & Cons
At the moment, Tesla charging stations are widely considered the best EV "refueling" experience for customers. That's because Tesla chargers are fast. In just 15 minutes, drivers can add up to 200 miles of range. Called Superchargers, these Tesla chargers let customers get back on the road quickly. 
However, it's important to keep in mind that Tesla chargers only work with Tesla vehicles. If your customer profile is aligned with Tesla, this may be a great option. Otherwise, other EV stations will give you more flexibility for drivers of different types of EVs. 
Finally, if your business qualifies, you may be able to install and maintain a Supercharger at no cost, which could be a huge plus if this applies to your situation. Remember that Tesla currently has a narrow qualifying profile for installing Superchargers. Generally speaking, businesses must be highly accessible to all Tesla drivers, such as shopping malls, strip malls or key stops in remote areas. Typically, secure or private parking lots won't be a good fit for Tesla's Supercharger program.
Installation Pros
Customer Pros
Large network of 2,564 stations and 25,000+ Superchargers worldwide.

Fast charging makes for a great user experience.

Tesla provides a trip planner with all stations and real-time availability.

Chargers are designed to be seen from the road.
Cons
Use is restricted to Tesla vehicles (through a proprietary connector).
Best Use
The best use for a Tesla charger would be for businesses with a customer profile that aligns with Tesla drivers. Because the Tesla network allows for long-distance travel, it's also a great choice for businesses with lots of highway traffic.
ChargePoint Charging Station Installation Pros & Cons
ChargePoint is currently the largest charging network, offering 114,000 stations worldwide. This huge network was built by setting up partnerships for a seamless customer experience across stations. 
ChargePoint has several plans available for installation, including a free program called ChargePoint as a Service. Overall, the company's committed to low-cost set-up and maintenance, but you also have the choice to install with your own professional provider. 
The only downside? ChargePoint doesn't yet have many Level 3 DC fast chargers, which allow for drivers to get back on the road quickly. If your business requires quick in-and-out time, ChargePoint might not be your first choice.
Installation Pros
ChargePoint offers free installation and maintenance through its

ChargePoint as a Service

program, which sets up pricing as a subscription.  

Otherwise, ChargePoint offers

other options

for set-up, activation and support with different pricing according to your needs. You can also choose your own EV charger installer.

It allows the property owner where the charger is installed to set charging rates (including free if you want to attract business this way).
Customer Pros
Largest charging network of 114,000 charging stations and 1,000s of Level 3 DC fast chargers.

Customers have the flexibility of using ChargePoint's partner networks. 

Program your ChargePoint to limit access for employees only. This prevents non-authorized people with ChargePoint accounts from using private ChargePoint chargers.

Both Tesla and non-Tesla customers can make use of ChargePoint stations, as Tesla EVs come with an adapter for these types of chargers. (Unfortunately, the reverse isn't true – a non-Tesla EV can't use a Tesla charger!)

Advanced EV app with real-time availability, estimated fees and more.
Cons
Not yet many Level 3 DC fast chargers in the network.
Best Use
The best use for a ChargePoint would be local businesses, such as parking lots, stores, offices or hotels where drivers spend lots of time parked. In this case, EVs can get charged up easily without relying on the few DC fast chargers in the network. 
EVgo Charging Station Installation Pros & Cons
EVgo is solely dedicated to fast charging stations and aims to be the nation's largest fast charging network. In fact, it's pledged to add 2,700 fast chargers nationwide by 2025, which shows its commitment to growth. 
EVgo is an excellent choice because it offers installation and maintenance at no cost for qualifying businesses. (This typically means being located in high-traffic areas with 24/7 public access.) However, the full process for approvals and installation takes about 6-9 months.
While its network is still relatively small and focused on urban areas, EVgo may become the #1 choice for businesses who require fast charging for their customers. 
Installation Pros
Customer Pros
Focused on fast chargers only.

800+ conveniently located fast charging stations across 34 states. 

Quickly building up a network (2,700 in the next 5 years). 

Rates based on regional utility costs to offer lowest possible rates. 
Cons
Still a relatively small network. 
Best Use
The best use for an EVgo charger would be local hotspots with quick turnaround times (25-45 minutes), such as grocers, shopping malls, gas stations, parking lots and hotels. This will boost customer loyalty with drivers who do quick in-and-out errands. 
Other Considerations for EV Charging Station Installation
As you plan to install an EV charging station, you should opt for experienced providers who know how to handle key considerations for EV charging stations. For example, our experts at W. Bradley Electric know how to evaluate, plan and install for:
Level of Electricity

Storage Location

Plugged In Or Hard-Wired

Internet Connectivity

Cabling to Suit 

EV Charging Station Pricing

Government Tax Credits
You can learn more about each of these areas on our blog about EV charging stations. Regardless of the brand you choose, you'll need experienced electricians like us to get the job done right.
Trust Our Expertise in EV Charging Station Installation
Ultimately, all three of these EV charging station brands are top choices for commercial use. Depending on your business needs, you may decide to install Tesla, ChargePoint or EVgo charging stations. 
No matter your choice, you may need to rely on professional EV charging station installation. Here at W. Bradley Electric, you can trust us to handle best-in-class EV charger installation. With 40+ years of experience and a five-star reputation, we're a one-stop shop for any of your EV charging station needs. 
Get in touch with our team to start installing the EV charging station of your choice!
Sources:
Car companies pledging EV transition 
President Biden $15 billion proposal