How the Trimble Robotic System has been a game changer in the industry
Buying a Trimble Robotic Total Station made perfect sense to BIM manager Kemal Masnopita, and the lucky WBE field crew who use WBE's latest purchase are delighted with their results. "I am sure the other foremen are gonna love it. After they train and start using it more, we will want another one," says foreman Dan Kirchner who couldn't speak highly enough of the RTS.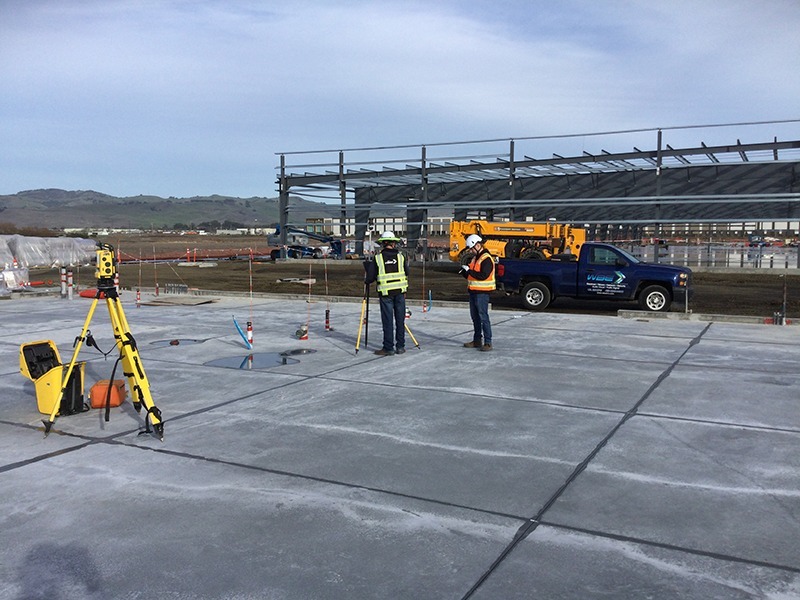 "Here at WBE, we're continually trying to improve and find BIM technology to benefit our teams and our clients," Masnopita explains. "WBE had already brought in subcontractors with this equipment and then rented a RTS to use on other projects. Professionally and financially, purchasing one was the logical next step."
 But what does a Robotic Total Station do? And why does it merit such an enthusiastic endorsement from Kirchner and his team?  
WBE uses the latest BIM software to create 3D models and 2D design documents, immensely increasing efficiency when ordering equipment and planning where conduits, pipes and thousands of other hardware pieces need to go. However, workers' efficiencies plummet when they use measuring tapes, strings and markers to translate points from those sophisticated drawings onto the real-world building site. 
Plumbing, building and electrical teams are all trying to measure and mark thousands of points in the same space. Measurement errors are inevitable, especially as the electrical section often measures from imaginary walls that haven't been built yet.  
Kirchner and his teammates, Matt Martin and Mike Moors explain it like this:  
"Using a manual method, we measure from the column lines and grid lines or walls with a tape measure or pull a string line from point A to B, then measure again to identify the point location in the field. After we set up the strings, people in the field can move them or trip over them. It's a safety hazard and affects the accuracy if they are moved." 
Using an RTS removes so much of the pressure. Here's how it works:
BIM schematics feed into an onsite tablet connected to the RTS. The machine reads it and takes three reference points to create a coordinating system. From there, it can guide operators to each point that needs to be laid out. Once the laser is on the exact point, it shoots a tiny mark on the deck.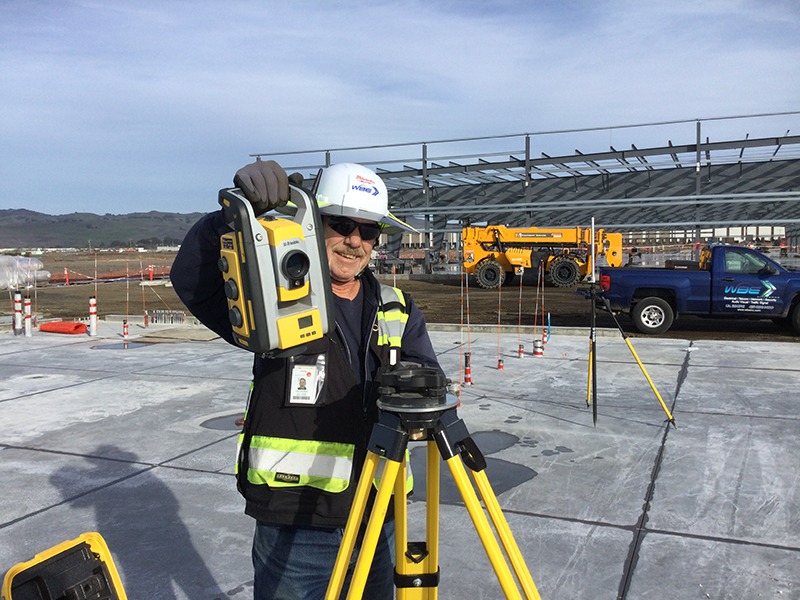 As Kirchner says, "it's just wireless data pointing us in the correct point location to be marked. No tape measure, no strings, no tripping hazards or movement of the references." 
With one person to operate the machine and a second to enlarge and accurately label the marks, a two-person team can mark an entire floor in 25% of the time taken to do it manually.
The Robotic Total Station works well on all the building sites usually encountered by WBE teams. Kirchner's team is looking forward to using their new equipment on WBE's latest PG&E Napa Regional Service Center project. Masnopita is confident they'll be able to mark the thousands of points needed on the buildings, parking lots, underground works and more in record time, even though much of the site is currently dirt lots and imaginary fence lines.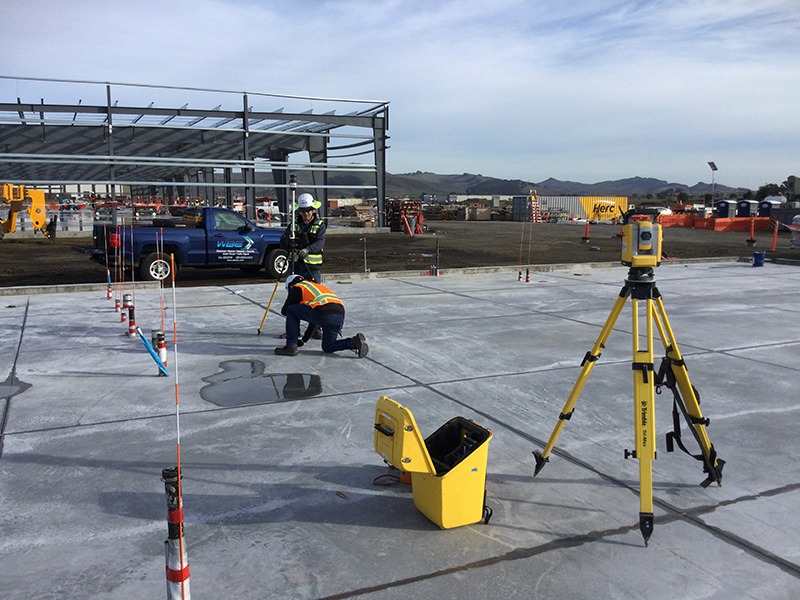 His staff back in the BIM department are also celebrating because the RTS makes it much easier for them to deliver accurate, up-to-date information to clients. 
Using the latest Trimble technology makes sense for WBE teams and their fellow subcontractors on large and small projects. And the efficiencies and time saved can only be advantageous for their clients, too.