Mass Notification Systems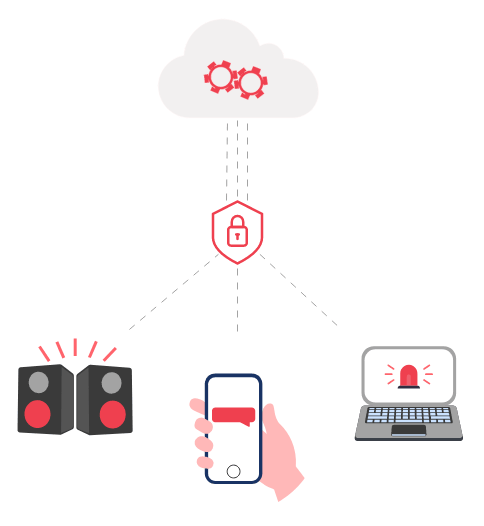 Give your building occupants an extra level of protection by sending mass notifications during an event via pre-recorded phone calls, text messages, emails and more.
At WBE, we can implement an effective and reliable mass notification system for your facilities. We'll ensure that you send the right message to the right people, every time. 
How do mass notification systems work?
Mass notification systems involve sending a one-way message to all individuals in a building, so they become aware of a crisis situation and can respond properly. 
These systems make use of a database of individual contact information, as well as emergency notification software to deliver messages as needed. Depending on the type of emergency, you can tailor the message and send it through appropriate channels, including pre-recorded phone calls, text messages, emails and social media posts. 
Why do you need a mass notification system?
A wide variety of organizations can benefit from having a mass notification system in place, including local governments, cities, university campuses, stadiums, offices and other large buildings.
Often, mass notification systems are triggered by events such as:
Extreme weather events (such as a hurricane, tornado, flash flood, blizzard, etc.)

Public health incidents (such as a pandemic or chemical exposure)

Public safety emergencies (such as a shooting, security breach or terrorist event)

Events impacting public transport (such as parades, planned construction or strikes)

Other types of incidents
In particular, mass notifications can be used in tandem with shooter detection systems in order to warn and direct occupants to safe areas in the building. To this end, WBE is a certified SDS dealer for shooter detection systems and works with brands such as EAGL and Amberbox to design world-class solutions to prevent and detect shootings, as well as send out mass notifications for any active incidents. 
What are the main features of mass notification systems?
A professional mass notification system should be set up for a variety of environments and situations, according to your building's needs. Some key features of these systems include:
Multi-layered technologies (pre-recorded phone calls, text messages, emails and social media posts)

Multi-zone audio system for localized notifications

Loudspeakers

Duress stations

Electronic messaging displays
In addition, at WBE, we expertly prepare your mass notification emergency system installation by considering administration-focused concerns, such as:
Customized integration

Easy-to-use controls and remote access

Escalation messaging to admins

User permissions management

Templates to set up pre-prepared messages

Tailored plans by location

Integration with the greater security system

Database management

Error monitoring
Trust WBE for mass notification emergency system installation
At WBE, we're committed to the safety of your occupants. Our technicians have 40+ years of experience in installing robust security systems that include emergency notifications. 
No matter the complex needs of your building or community, we'll work closely with you to design and implement mass notification system installation that meets your long-term needs.